B&W Illustrations - Personal Touch
$289.00 per Item
You already did the impressive work of writing a book. Now let Archway Publishing help you enhance it with custom black-and-white illustrations. Our talented artists will use guidelines set forth by Simon & Schuster along with your own ideas and creative direction to create unique illustrations that will fit perfectly with your book. The clean lines and uniform shading used in creating Personal Touch illustrations are perfect for a simple, classic look. These black-and-white illustrations can be created in a wide variety of styles and subject matter, from people and landscapes to technical drawings and maps.

Your black-and-white illustrations can be produced in the following styles:
Juvenile/Whimsical (a sweet, cute style)
Cartoon/Humor (a humorous, funny style)
Fantasy (a comic-book or mythical style)
Science Fiction (a futuristic or technological style)
Our artists can also create illustrations in a realistic style; however, you'll need to select our Fine Detail illustration service.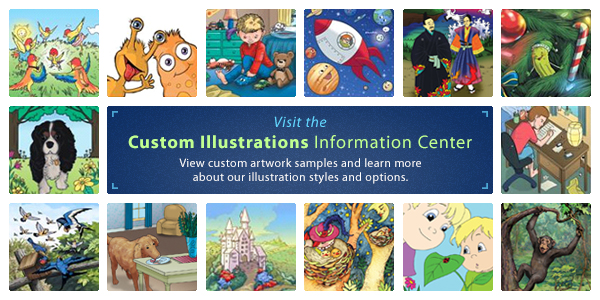 Click the image above to visit the Custom Illustrations Information Center.
Learn More | Black-and-White Illustrations – Personal Touch
Add a classic look to your book with these custom black-and-white illustrations. The typical timeline for this service is six to 12 weeks depending on our work queue and the complexity of your project.
Call 844-669-3957 to order
or speak to an Archway Publishing team member for more information about this service
Disclaimer: Prices listed do not include applicable taxes (such as sales, use, excise, value-added, goods and services, or other tax), which will be added to the total at the time of purchase. Prices listed do include the copies of the book; the cost of shipping and handling will be calculated and charged after your book is made available for sale.